Hello.
My name is Uchida, and I am a member of the International Auto Film Festa Executive Committee.
The first event was held at a rapid pace early this year. Although the event was run quickly, we are grateful for the large number of participants worldwide.
As a staff member of the executive committee, I was delighted to see that content from various categories was gathered even though it was the first time being held.
We have featured much of the first award's content on our website, so please take a look.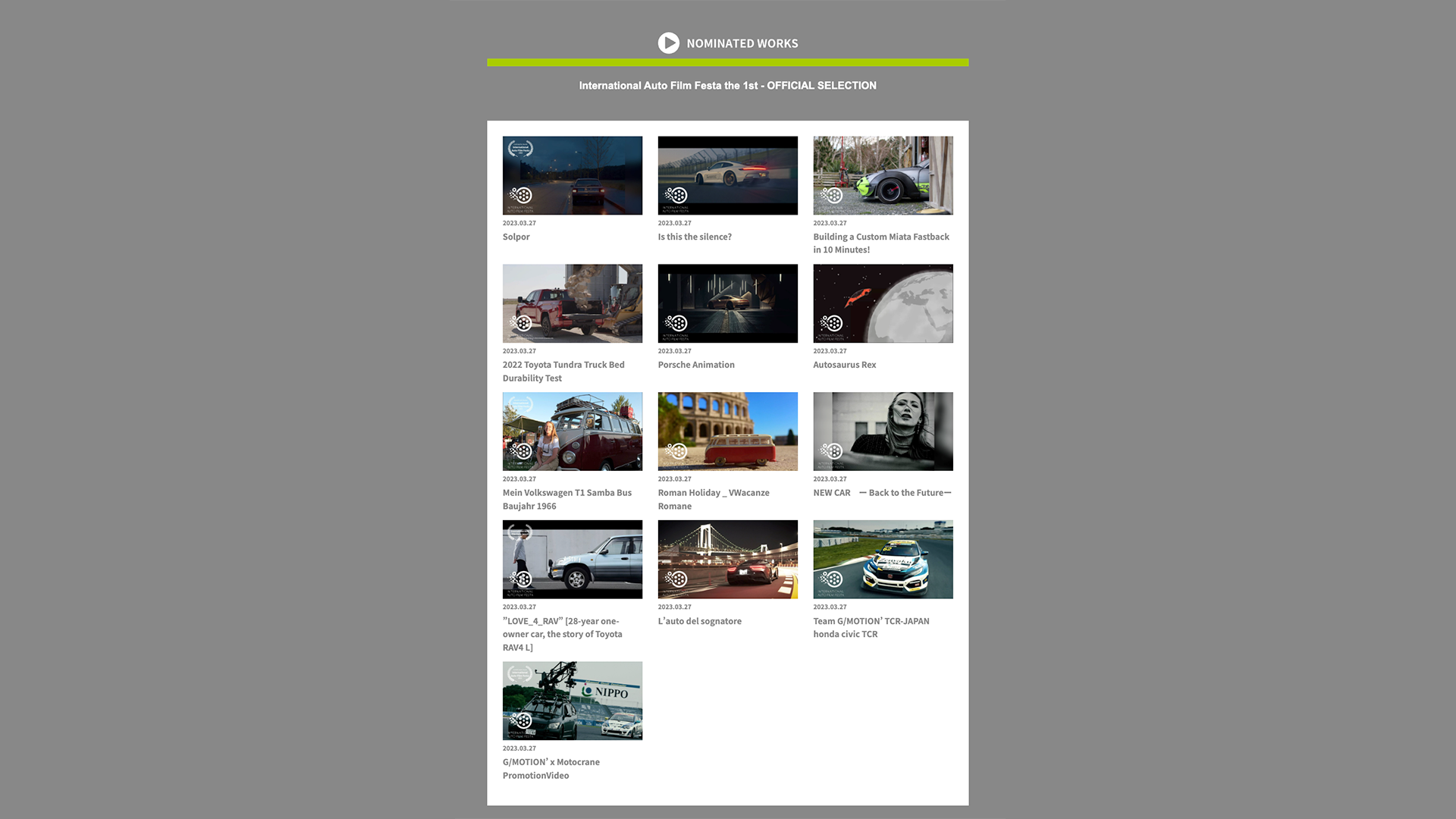 [ List of works nominated for the first time ]
We will be preparing to hold the second International Auto Film Festa early next year.
I'm looking forward to the next entry for you. I wish there were something like this, so I would like to quote publicly available videos and share my opinion.
24 year old young man ☆ 1961 Volkswagen bus delivery trip ☆
As the name suggests, this is a video of a 24-year-old person purchasing a Type-2 and driving it for the first time.
The highlight (?) of him being a car idiot who steps into an air-cooled car at such a young age may be the highlight (?), but the natural direction that doesn't feel forced and the dynamic composition with the use of a drone shooting in some places, are very impressive. It was worth seeing.
While depicting an encounter with a beloved car, I can sympathize with the shooting technique being directed in a way that doesn't seem contrived.
It had a perfect sense of humor, as it incorporated some ideas, such as drones and angles of view, into everyday videos.
So, we look forward to seeing videos that are not just road movies but also include compositions and various techniques!
Toyota CM "Father and Daughter" edition
This is content from Toyota's well-known web commercial.
I cry every time I watch this. My lachrymal glands have become fragile as she ages, but the daughter's story, after her father's, hits me hard twice.
As expected from Toyota, they don't just make you cry but convey the message they want to share. This is the best commercial because it has a heartfelt car theme and conveys the message to the viewer.
All the judges probably (right?) like heart-filled things, so we're looking forward to receiving your entries!
Personally, I also really like CG and other practical and excellent content. We received a wide variety of content submissions for the first time, so we look forward to receiving a variety of content in categories other than those listed above.
I'm looking forward to seeing everyone's work at the second event♪ (written by Uchida)
---
The second round of recruitment will begin on January 1, 2024. Applications can be made via the official website, FilmFreeway, and festhome.